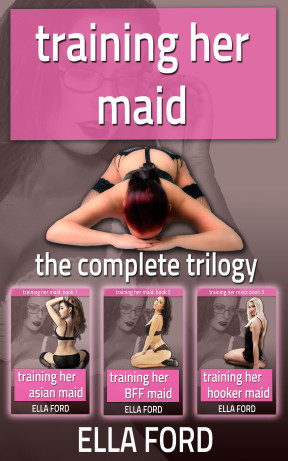 Buy from the Kindle Store
The mistress and the maid. A relationship as old as time itself, formed out of practical necessity. But what happens when the needs of the mistress go beyond simple household chores? What happens when the dark desires of lesbian lust eclipse all other considerations? This heart-stopping trilogy of sapphic submission will thrill you and leave you aching to serve… or be served.
Training Her Asian Maid: All that Jennifer Clark really wanted was a maid to help with her household chores, someone to take care of the mundane tasks that she was too busy for. But then she met Hanako, a submissive and sensual Japanese girl, and she got so much more!
Training Her BFF Maid: "If you win, I'll be your maid for the weekend." A simple bet between friends, a childish game. But when BFFs Lisa and Nicole become mistress and maid, they soon discover dark desires that neither girl had ever even considered and their friendship will never be the same.
Training Her Hooker Maid: She set out with good intentions. To provide hope to the desperate and sensual Lillian. But good intentions are often eclipsed by dark desires, and she soon finds herself hungering to Lillian in a way that she never intended. Meanwhile, Lillian has lusts and desires of her own…