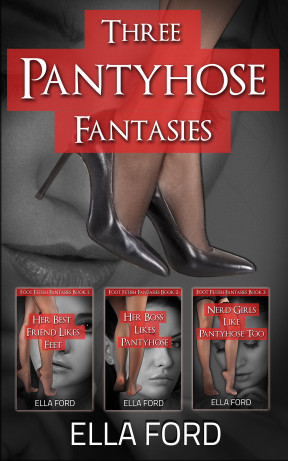 Buy from the Kindle Store
Everybody likes pantyhose!
Or if they don't, they should! Soft nylon-covered arches, pretty painted toenails and slender ankles. What's not to love? Join Ella Ford as she explores her own fetish in her hottest trilogy yet! This series of interconnected stories follows three women as they embark on their own very different voyages of awakening, discovering a love of female feet and lesbian sex, and changing their lives forever! These sinful tales are scorching hot and will leave you breathless for more!
Her Best Friend Likes Feet: Joanne's best friend Abby has a kinky little secret. The pretty brunette has a foot fetish, a love of female feet and pantyhose; a curious and unsatisfied longing that she dare not act on. When Joanne is told this secret, she finds herself unable to think of anything else and plunges down a path of sexual awakening, discovering that her friend and she may have more in common than they realized!
Her Boss Likes Pantyhose: Monique will do anything it takes to get herself noticed ahead of the other interns at Blake and Chesterton. She's willing to work late, put in the hours and really go above and beyond the call of duty for her boss, Miss Joanne Winters. But even Monique isn't prepared for Miss Winters' strange demands and peculiar passions. As Monique struggles to please her boss, she finds herself immersed in a fetishistic world of hungry desire and intense pleasure.
Nerd Girls Like Pantyhose Too: Jessica is shy and awkward. Gripped by social anxiety and nervousness, she spends her days working in a library and her nights playing videogames. But Jess has a dirty little secret, a repressed desire for female feet and pantyhose that she's held inside herself all of her life, afraid to act on her desires and unable to pursue her deepest fantasies. But when she meets Miss Laura Todd, her life changes forever. Because Miss Todd has a filthy secret of her own, one that opens the door to Jessica's desires and allows her to live out her wildest dreams.