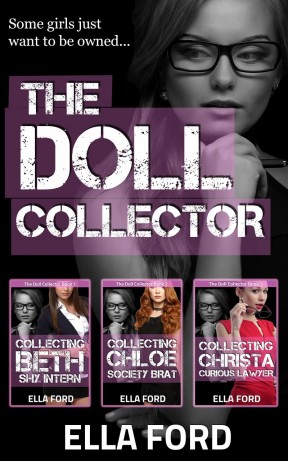 Some girls just want to be owned…
Claudia Ross is a wealthy widow and obsessive collector. But this insatiable older woman doesn't collect books or stamps or inane trinkets. No. Claudia Ross collects living dolls, willing submissive girls who want nothing more than to surrender themselves to her; giving themselves, mind and body, to her perverted collection. Join Claudia as she recounts three tales of erotic acquisition, introducing her new dolls to worlds of lesbian pleasure that they never dared dream possible!
Collecting Beth, Shy Intern: When Claudia first saw Beth, she had to have her. Glimpsed across a crowded Vegas bar, the shy intern awakened feelings in Claudia that she had never experienced before and simply had to pursue. But Beth's seduction is just the start of Claudia's erotic journey and both women's lives will never be the same again.
Collecting Chloe, Society Brat: Chloe Phelps-Roper is a spoiled brat, used to getting her own way and not above using her hot body to achieve it. But Chloe never met anyone like Claudia Ross before and the sensual society princess soon finds herself drawn into the erotic world of female collecting.
Collecting Christa, Curious Lawyer: Claudia Ross never set out to seduce Christa Black. The tall, elegant, blonde lawyer was nothing more than a legal hurdle that Claudia had to overcome. But Christa had other ideas, finding out the truth about Claudia's sordid collection and realizing that she wanted nothing more than to be a part of it.