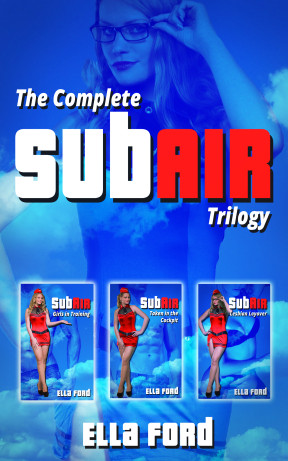 Buy from the Kindle Store
Imagine an airline where the hostesses are perfectly submissive and utterly obedient, endlessly willing to serve their passengers in whatever way they choose. That airline exists, and its name is Subair, the exclusive carrier of the most powerful men and women on the planet. Join Jenny Jones in this three story collection as she begins her sensual journey, from raw recruit to seasoned submissive.
Girls In Training: When Jenny Jones is invited to train at SubAir Academy, she thinks that her dreams have come true. But there's just one problem - she can't perform in public. Follow Jenny's story as she embarks on a steamy voyage of self-discovery, finding out just how far she's prepared go to submit and serve.
Taken In The Cockpit: On a private flight to a tropical paradise, Jenny finds her abilities tested by an aloof politician and his sultry wife. The puritanical head of state seems utterly uninterested in the services offered by Jenny and her crew. But his insatiable wife may have other ideas! What perverted measures will Jenny have to take to help him relax and enjoy his flight? And who is going to keep the randy pilots happy?
Lesbian Layover: After a tiring flight with a party of randy football players, Jenny Jones and her colleague Kelly find themselves on a steamy layover with an insatiable flight crew. But these particular pilots are SubAir's only all-female crew and they have filthy plans for the sensual hostesses. Join Jenny in this thrilling conclusion to the SubAir trilogy, a lesbian adventure of a lifetime!