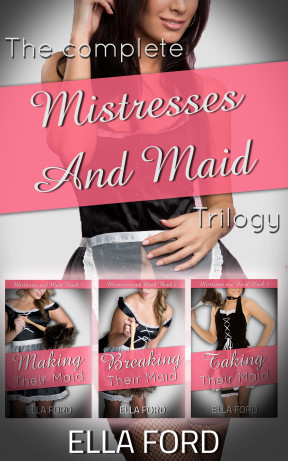 Buy from the Kindle Store
Ella Ford returns to the genre she loves the most - hot, lesbian maid stories! This sensational trilogy follows Leanne as she finds herself serving not one, but two insatiable mistresses. With over 42,000 words of heart stopping lesbian erotica, this collection is guaranteed to leave you breathless for more!
Making Their Maid: Hot college graduate Leanne takes a job as a maid with wealthy lesbian couple, CJ and Sarah Goddard. But all is not as it seems in the Goddard house, and Leanne soon finds that her duties extend to much more than just simple household chores.
Breaking Their Maid: Leanne is beginning to settle in to her new role as submissive lesbian maid to the insatiable CJ and Sarah Goddard, when her old life comes calling. Her best friend Anna decides to find out why Leanne has dropped off the face of the world, without even saying goodbye. Will Leanne be prepared to share her dark secret with her friend? And what steamy plans does CJ Goddard have for the four of them?
Taking Their Maid: After several months of obedient servitude, Leanne believes her life is complete. With CJ and Sarah as her mistresses, she lives a life of willing submission and endless pleasure. But all is not as it seems, and CJ Goddard holds a dark secret of her own. One that will shake the very foundations of this filthy threesome.