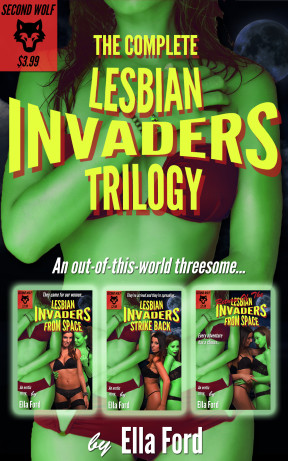 Buy from the Kindle Store
An out of this world threesome!
Join Laura Hayman and her extraterrestrial lover Belle as the lusty pair embark on a steamy voyage of interplanetary relations and mind-bending experiences! This three story collection of lesbian sci-fi erotica is a non-stop thrill ride of hot alien bodies and sexy adventure that will leave you breathless for more!
Lesbian Invaders From Space: When Laura Hayman met Belle, her life changed forever. Introduced to a world of sensual pleasure that was beyond anything she'd ever experienced, she found herself falling for the sensual blonde. But Belle has a secret, one that will launch Laura on a steamy adventure that is out-of-this-world!
Lesbian Invaders Strike Back: The Earth is being invaded by an insatiable army of lesbian space nazis intent on dominating humanity's women, and only Laura Hayman can save us! But first, Laura and Belle need to infiltrate the headquarters of the wicked and perverted Lyandra, using their nubile bodies as sensual weapons!
Return Of The Lesbian Invaders From Space: The invasion continues and the Princess Bellandra has been captured by the evil Kyla! Only Laura and Belle's sexy friends can save her from a steamy fate on board Kyla's harem ship!