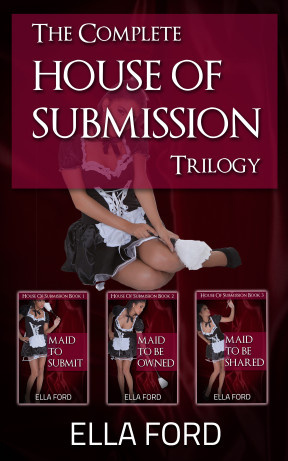 Buy from the Kindle Store
Three more steamy tales of submissive maids and lesbian domination by Ella Ford. Follow Cassandra, an ambitious reporter who finds herself writing a very special story - the story of her life as a willing submissive in the service of Miss Katherine Foster. This red hot series will set your heart racing and leave you breathless for more!
Maid To Submit: Cassie Cook is stuck in a rut, her career as a reporter is going nowhere. So when she's given the opportunity to blow the lid off the story of six missing girls, she jumps at the chance. But she soon finds that all is not what it seems, and that some women simply want to disappear. Before she knows it, Cassie is dragged into the sordid world of submissive maids and endless pleasure, and her life will never be the same!
Maid To Be Owned: Cassandra's life as a submissive maid is an endless journey of pleasure and pain, serving her mistress in whichever way she desires. But her mistress has a special plan for Cassandra, a plan to show her the sordid underbelly of society and the true meaning of submission. At a clandestine gathering of society's elites, Cassandra finds that everything has a price, including her.
Maid To Be Shared: As a submissive maid, Cassandra is used to satisfying the whims of her mistress. But when she finds herself sold into the service of a rich society princess and her lesbian lover, Cassandra will have to learn how to satisfy not one woman, but two! And when she discovers that each of her new mistresses has very different needs, her life becomes more complicated than ever!