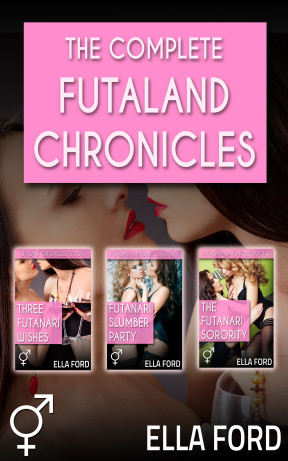 Buy from the Kindle Store
Packed with hot girl-on-well-endowed-girl action, this 30,000+ word anthology brings the three part Futaland Chronicles series together in a single volume. This steamy collection will set your pulse pounding and leave you breathless for more!
Three Futanari Wishes: When Jessica becomes the recipient of a magic lube that grants the user three wishes, she finds herself longing for satisfaction. On this enchanted night, she gets more than she bargained for when a beautiful futanari girl appears and offers to grant her request. How far will Jessica go in her pursuit of pleasure, and what will she use that final wish for?
Futanari Slumber Party: Lucy and her friends plan a wild night of lesbian exploration to set them on the road to college life. But why is Monica so reluctant to get involved, and what is that mysterious bulge in her panties? If Lucy and Kim can persuade Monica to embrace her true nature, then they may be set for a night that is wilder than they could possibly imagine!
The Futanari Sorority: Delta Iota Kappa is a sorority with a difference. To be a full member, you need to have a full member! When Beth is invited to join, she must first face the chapter's sordid initiation ceremony. Will she blanch at the sight of the well-endowed sorority sisters, or will she embrace her desires and fulfill her futanari destiny?