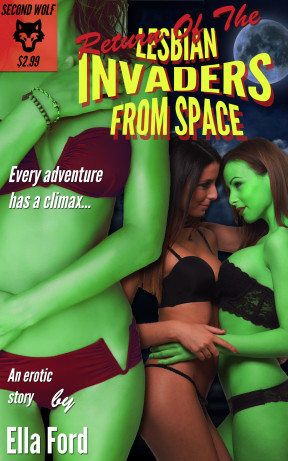 Buy from the Kindle Store
Every adventure has a climax…
Earth, 1986: The planet has been invaded by an insatiable race of alien lesbians! Led by the evil Kyla, this relentless sapphic horde has begun to pillage our planet for humanity's most valued resource: it's women.
We have but one final, fleeting hope: Mild-mannered waitress, Laura Hayman, and her alien lover, the Princess Bellandra. This unlikely duo have vowed to stop at nothing to put an end to Kyla and her lusty schemes, using their sensual skills of seduction against the very forces who would seek to dominate them.
But disaster has befallen Laura and Belle. The interplanetary sweethearts were torn apart when Kyla captured the alien Princess and shipped her off planet to her orbiting harem ship. Now Laura must team up with Belle's sexy pals, Trina and Melia, and attempt a daring rescue of their imprisoned friend! What steamy perils will they face as they sneak into the very heart of Kyla's sexual empire?
This concluding chapter of the heart-stopping Lesbian Invaders trilogy is an out-of-this-world adventure, rammed full of hot sex and gorgeous heroines.