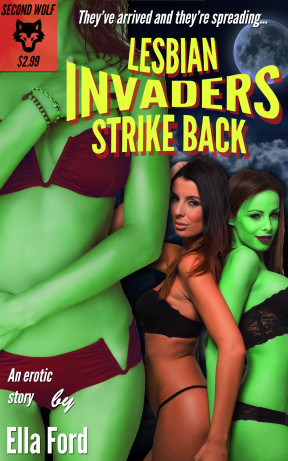 Buy from the Kindle Store
They're here, and they're spreading!
The Earth has been invaded! A secret armada of insatiable lesbians; walking among us, pillaging our mineral wealth and pursuing a nefarious plan to dominate our women. Led by the sinister and sensual Kyla, the Sextrooper army has begun its unstoppable insurgency in Sycamore Falls, Oregon. A sleepy backwoods town that is home to Laura Hayman, the unlikely best hope for humanity's survival!
Joined by the seductive alien princess, Bellandra, and her sexy friends, Laura must become the daring heroine of her childhood imagination. She must learn to use every erotic power she possesses to fight off this relentless force of interstellar lust.
In this heart-stopping second volume of the Lesbian Invaders trilogy, Laura and Belle return to Sycamore Falls in pursuit of the cruel and perverted Governor Lyandra. Will the hot pair be able to use what Kyla's hordes want the most - their nubile, firm bodies - against them?