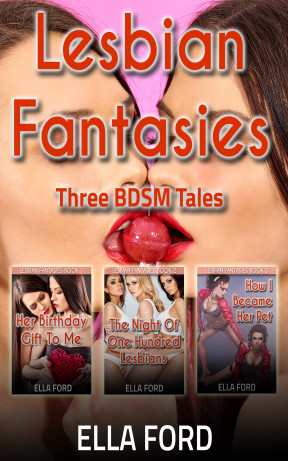 Buy from the Kindle Store
There's something unique and thrilling about a woman's submission to another woman. Collared and leashed, existing only to obey and give pleasure, it is the perfect relationship. Join Ella Ford on a heart stopping journey into the world of lesbian BDSM in this steamy, three story collection!
Her Birthday Gift To Me: Chloe's life was a mess. Depressing job, no boyfriend, always feeling as though something was missing in her relationships. But her best friend and roommate, Katie, thinks she knows exactly what is wrong in Chloe's life and she intends to put it right. First though, she must give her friend the perfect birthday gift: herself.
The Night Of One Hundred Lesbians: When Katrina's best friend Karen invited her to an exclusive lesbian sex party, Katrina was reluctant at first, then decided to give it a shot. But Katrina had no idea that her first experience of lesbian sex would be quite like this! Strapped to a table, legs spread wide and completely naked, Katrina finds herself at the mercy of one hundred eager women and begins to wonder just how far her body is able to go.
How I Became Her Pet: When Melissa applied for a job with Felicia Jones, it seemed like an easy gig: a couple of walks a day, fill up a bowl with water or food, and take the money at the end of the week. But after one careless error, Melissa finds herself providing a very different service to Ms. Jones.Collared and leashed, Melissa becomes the willing and obedient toy of a woman with peculiar desires and an insatiable appetite.