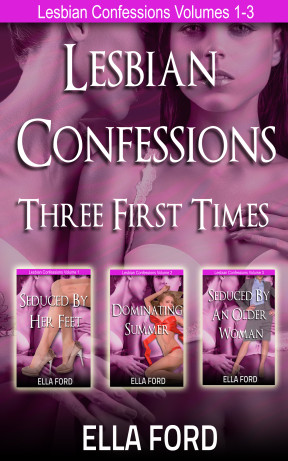 Buy from the Kindle Store
What drives one woman into the arms of another for the first time? What strange desires ignite the sapphic passions within and send someone on an exhilarating journey of lesbian lust? This 30,000 word bundle collects together the Lesbian Confessions trilogy, three kinky tales that explore these primal urges and the steamy trysts that arise because of them.
Seduced By Her Feet: When Sarah Fisher set out that morning, the last thing she expected was to fall for another woman, let alone become obsessed with the the idea of female feet. But that was before she met Samantha, a beguiling temptress who leads Sarah down a passionate road of exploration and self-discovery.
Dominating Summer: Charlotte Lacey is principled and driven, a professional woman in a world of sleaze. On a routine business trip to Las Vegas she finds herself the recipient of an intriguing offer: a night with the sensual and willing Summer. "She's yours for the night" the note reads, leading Charlotte to face up to her sapphic temptations and the alluring attraction of sexual domination.
Seduced By An Older Woman: Stephanie is eighteen and bored, living out her final days at home before college. One sultry afternoon, she encounters Helen Johanson, her seductive middle aged neighbor. In the blink of an eye Stephanie is swept up on the rising tide of lesbian obsession and will stop at nothing to be with the older woman. When circumstances throw the pair together, their lives will never be the same again.