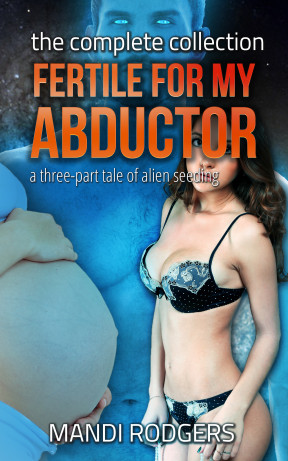 Buy from the Kindle Store
Book One: First Seed
Kelly is just a normal girl, partying by night and angling for a promotion by day. But when a new client with an extraterrestrial secret steps into her life, she's caught up in a world of irresistible passion and new experience.
Her new lover wants to steal her away, restrain her, and take her hard and unprotected. The continuation of his species depends on it.
Book Two: Starchild
It's been four months since Kelly was abducted and taken unprotected by her alien lover. Now she's all alone, carrying their child.
When he returns, will he still find her swollen fertile form attractive? Can Kelly's frail human body survive the unearthly child growing inside her?
Book Three: Repopulation
In the space of 18 months, Kelly has found herself abducted, impregnated and giving birth to an alien hybrid child.
Now she's settling into her new life on a new world, an exotic object of worship to the natives. There's just one thing she needs to make her new life complete, and her alien lover is only too willing to give it to her.
Note: Features themes of alien pregnancy and birth.